Exporting Files
Merlin allows you to share your project files with a large group of applications. You can export your Merlin project file to make it available to PC users using MS Project or export it as an OPML file that you can edit in Omni Outliner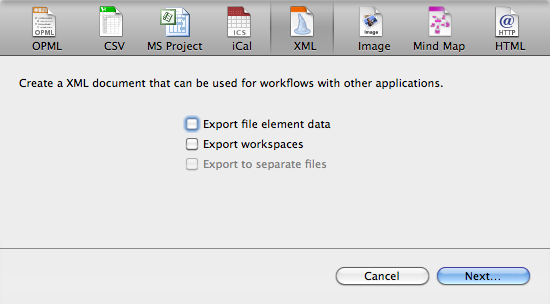 Export Formats
You can export your Merlin file to:
How to export your project
Go to File - Export
Choose the type of file you wish to export to
Select desired export options, if available
Click "Next…"
Select the destination you wish to save your exported file to
MS Project Export Notes:
Activities:
The activity budgets and the base costs are not exported.
Of the four date restrictions offered by Merlin per activity, a maximum of one is exported.
The start and end of an activity are always exported in the same direction (ASAP, ALAP).
The percent values of durations and work are exported with absolute values.
Work values are always exported only in the "hours" unit.
The behavior of the "Optimize Duration" button of an activity cannot be displayed in the export.
Date restrictions and dependencies of assignments are not exported.
Linked projects are exported as one project.
At present the following columns are not exported: Remaining Work, Actual Work, Actual Work Overtime, Last Report Date
Description text is exported without the formatting.
When using the .mpx format, material resources are exported as work resources.
WBS code format cannot be exported.
Resource leveling values are not exported.
Resources
Reasons for calendar exceptions are not exported.
Elements
Elements are not exported.
Mindmaps
You can export your project file as a mind map using the Mind Map - Freemind option. All you need to view your mind map is a web browser. This is a great way of sending your Merlin Project file mindmap to other users.